During the COVID-19 crisis, many of us are frantically house hunting real estate listings online, whether or not we plan to move soon. Here's why.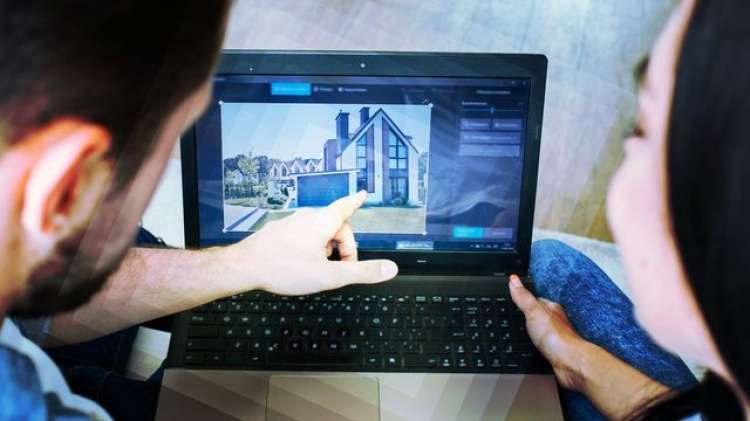 peakSTOCK/Getty Images
It's 2 a.m. and I can't sleep—a common occurrence ever since the coronavirus began its hideous, horrible path through New York City, where I've been living for the past year.
Yet whenever pandemic panic kicks in during the wee hours, I have figured out the perfect panacea for my insomnia: I grab my phone and start shopping for real estate.
Right now, I rent an apartment in a high-rise building. If I venture outside, I strap on a mask, touch elevator buttons with my elbow, and cower from my neighbors in the lobby.
It goes without saying that New York is a tough place to live right now. My anxiety craves an escape hatch.
And nothing delivers like a listing photo of a spacious cabin on a remote, wooded 10 acres, with a lush garden overlooking a private lake.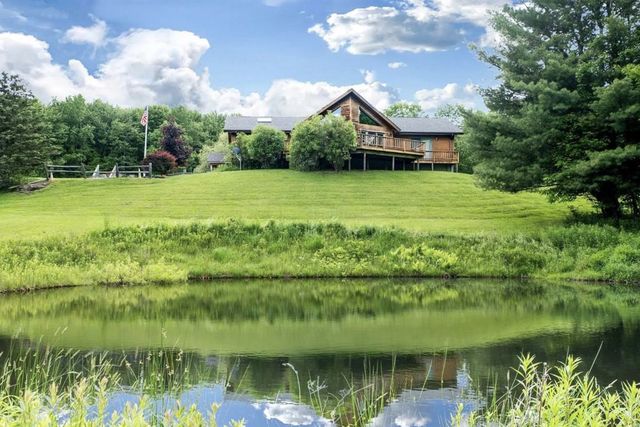 How to socially isolate in style: 10 acres, two ponds, and your own stream. A back-to-the-land dream house.
realtor.com
Am I looking to move? Not yet. In New York state, in-person home tours aren't even allowed, and I'd never buy a place sight unseen.
Nonetheless, window shopping for real estate fills me with a sense of calm.
In the same way that fantasizing about an upcoming vacation helps people slog through a few more weeks of their 9-to-5 job, checking out real estate gives me the fortitude to push on.
Why window shopping for real estate is a popular pastime today
"I'm thinking this is a sign from above that we aren't meant to live in cities," remarked one of my friends, a fellow New Yorker.
During this conversation, my friend shared with me the real estate listing she was eyeing online.
It was a sweet white Colonial with buttermilk-blue shutters in Connecticut, about 45 minutes from her current apartment, with a pretty green lawn and a slate patio. Just looking at it made the oppressive anxiety I was experiencing lift briefly.
My friend was, like me, just looking, with no serious intent to buy just yet. And it turns out we're hardly alone; apparently online real estate window-shopping is a very popular pastime these days.
"This COVID thing has me looking online for a condo rental on the Jersey Shore," another New Yorker friend told me.
"I feel as if I could be laid off any minute now, so why not have a cheap little place by the beach to ride this out? Not sure if I'll actually do it, but I'm considering it."
While window shopping for real estate has always been a thing, it's on the rise.
Pollena Forsman, associate real estate broker at Houlihan Lawrence, in Westchester County, NY, just outside the city, has seen online views "ticking up and up."
Browsing listings during the COVID-19 pandemic, however, is a bit different from the garden-variety real estate window shopping of the past.
For one, there's an element of high anxiety and a slew of "what ifs" in the mix.
As in: What if this pandemic gets so bad, I need to escape the city? What if the economy tanks and I have to head to the (inexpensive) hills because I'm broke and can't afford the city?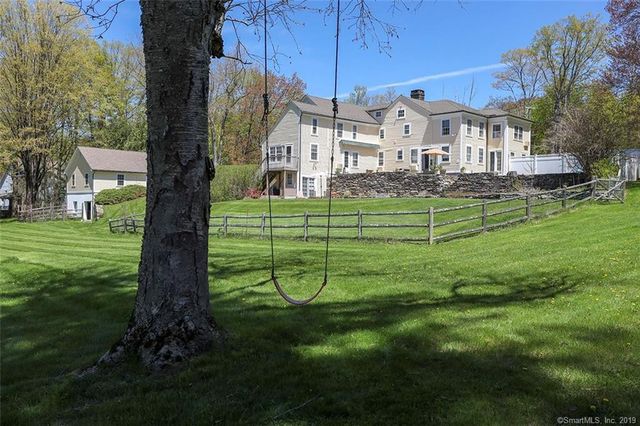 This sunny, rambling Connecticut Colonial with a pool out back and a swing suspended in an old tree lowered my stress to manageable levels.
realtor.com
"People are panicked," explains Alison Bernstein, president and founder of the Suburban Jungle Group, a national real estate firm that assists people leaving the city for the suburbs.
"[Our web traffic and calls] are up 40% from this time last year."
Many of these calls, Bernstein says, are from people who were previously considering a move but decided they were not ready.
"But now, they are ready," she says. "They don't want to get on elevators anymore, or do laundry in a shared space."
In the past, I might have swooned over a cute, compact brownstone in a hip neighborhood in New York City.
Now, I place a premium on space, picking out dilapidated Victorians on a few acres, or well-kept contemporaries with pools, or hot tubs—anything that would enable my family to practice social distancing in style.
In my fantasy real estate shopping, I often remind myself that mortgage interest rates are at near-historic lows. I allow myself to nudge my price point up, virtual-touring a beautifully restored Greek Revival with a pool out back.
Then I think maybe, if the COVID-19 devastation continues, I should consider smaller-town life, far from the pull of the big, germ-infested city. That's when I find myself looking at little brick row houses in charming villages that dot the border of Pennsylvania.
I tell myself that perhaps we should relocate completely—none of this "weekend house near the city" nonsense.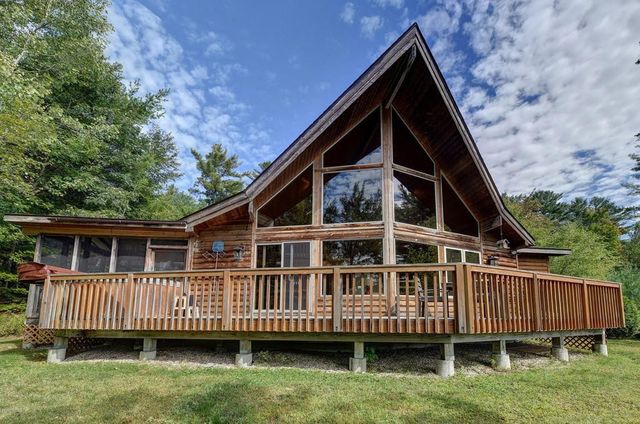 Who knew a contemporary house could be so charming? I call dibs on that hot tub.
realtor.com
What real estate window shopping really means
Yet while many people are formulating their plan B's right now, whether they'll actually move once quarantine lifts and people can start touring homes remains to be seen.
Perhaps real estate window shopping serves a more immediate purpose: to keep us calm during this crisis.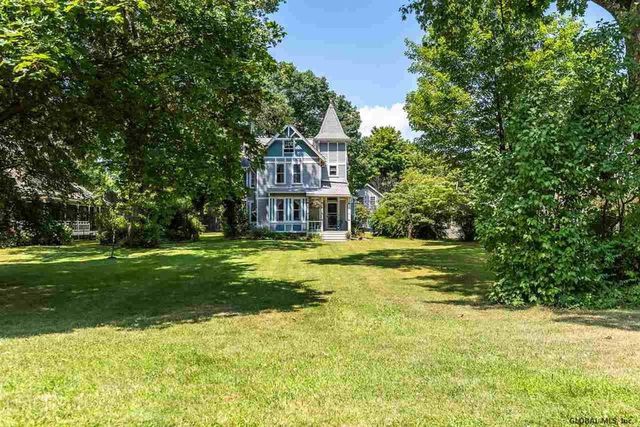 It's not on a big lot, but the architectural detail of this village Victorian had me swooning.
realtor.com
"Of course, people are likelier to feel unsafe in a densely populated area where they are more likely to contract the virus," says Jennifer Kornreich, Ph.D., a clinical psychologist in private practice in Huntington, NY, when I ask her what this relentless and restless real estate review is all about.
"Also, the upside to city life diminishes when people see that they can't take advantage of all things that drew them to the city, like great restaurants and the arts," she adds.
"And people who have lost income may be even less able to do those things when cities reopen. Simpler pleasures that you can still do while social distancing—gardening, enjoying nature, exercising outdoors—just aren't as easily available in the city."
Also, there's a fantasy component to this.
"Since we can't get together with others, much of our leisure time is spent in our imaginations," Kornreich explains.
The house hunting is all about dreaming of possible escapes, somewhat like looking at vacation spots, even if you never actually go there.
Fantasy aside, COVID-19 is also prompting people to re-evaluate their lives. "Confronting your mortality as we are now doing may push you to think about what changes you want to make in life," both large and small, she says.
In other words, this pandemic may urge you to live closer to family, or quit your rat race job in the city for a kinder, gentler life in a more rural setting.
What's more, scanning for alternate homes feels as if we are mobilizing to take action in a situation that has thrown us all into a state of upheaval and powerlessness.
"Right now, you can't control where you go in public, but you may be able to control where you live," says Kornreich.
Maybe she's right.
Perhaps this is why I'm awake at 2 a.m., scanning everything from short sales and mini estates that could get me off the urban grid.
I have lost my bearings, my lifestyle, and my confidence in my own well-being.
Looking at houses lets me imagine a life different from this lockdown. It makes me think there's a future for me in making a fresh start, having freedom, taking the reins, and living my best life.
Whether or not I move, that hopeful, confident surge I get from real estate window shopping into the wee hours is 200% worth it.
The post Why the Coronavirus Has Me Window Shopping Real Estate Like Crazy appeared first on Real Estate News & Insights | realtor.com®.
Source: Realtor.com
By: Janet Siroto, May 5, 2020